Whenever you look through Pinterest or a home design catalogue, you probably see all these stunning window treatment options, including some fantastic options for a kitchen. Kitchen window coverings can truly be some of the most difficult window coverings to nail down, perhaps because the kitchen seems like such a worn out place for window treatments. Kitchen style is a bit trite. There are the usual country window looks that involve a lot of gingham and patchwork-style fabrics. Then you have the polar opposite look that is all about the edges and the sleek finishes. These are great options, but is there no middle ground? What if you are looking for something else to spruce up your kitchen windows? Luckily, when you work with House of Blinds to select the best kitchen shades, you can easily come up with new and creative options for your kitchen window coverings. No longer will you be stuck trying to dig through the middle ground between the two usual options. Instead, you can work with an interior design expert who can help you make the best decisions for your window coverings.
The first rule to remember is that nice looking shades do not have to be expensive. You do not need to break the bank in order to get quality looking and lasting window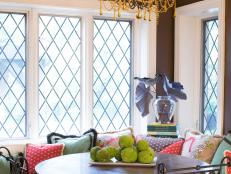 treatments. Indeed, there are many options, including working with existing treatments or through a DIY project, to get you to your kitchen window treatment nirvana. The first step to take, of course, involves setting a budget. That budget makes all the difference in your final decisions, and be sure to stick to it lest you end up with a project on your hands that becomes unaffordable. Next, consider the type of kitchen you have and the proximity of cooking to the location of the window treatments. For example, you will not want to put expensive wooden window shutters near a splatter zone, where the window treatment will just be exposed to cooking grime day in and day out. This serves no one, especially not you who will have to clean them almost daily. If you have a window above your stove or near an area where you cook frequently, you might want to consider materials that are easily laundered or else easily wiped down. Some good options include cafe curtains and drapes you can throw in the wash, or solar shades and synthetic blinds and shutters to wipe down with soapy water at the end of the day. Avoid wood blinds and shutters, as needing to clean daily with a special wood cleaner can easily become tiresome.
You might also want to consider the privacy aspect of your kitchen. As your kitchen is likely on the ground floor, you should do a quick outdoor inspection to see what is visible to someone looking in from the outside. Roman shades or roller shades can offer just the right amount of privacy and the right amount of sunlight. Frosted vinyl is also a good design fix, especially if you are looking for both natural lighting and privacy.