Most of us have been there at least once, we are in a hurry and rush out of the car to get where we are going only to notice shortly after that the car keys are there sitting on the seat or in the ignition and the car door is now locked. Hopefully this is only something that happens to you once, maybe twice in your life but when it does happen, here are some things that you can do to make the process as painless as possible.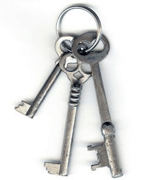 If you have a roadside assistance service, now would probably be a good time to call them. This way you can get the service either cheaper or sometimes for free.
If you do not have a roadside assistance plan, now would be a good time to see if you have any friends or family members that have a recommendation of an emergency locksmith. You can get the best recommendations from people that you know.
If you find a locksmith number you find online or in a phone book, check if they have an address that is local. Some mobile locksmiths will not list an address since they work out of their home but try to get an address if possible and make sure they are in the same city. If they have to go far to come to you, you are probably going to end up paying for it.
Try and get an estimate on the phone. Most of the time the locksmith should be able to do this with knowing what kind of car you have. If they are hesitant to even give you a ballpark idea, this is probably a bad sign. Make sure to ask if the price that you are given includes all of the fees and work that will go into the process.
Ask if the locksmith is insured. Most of the time getting an emergency locksmith to open up your car is pretty safe but just in case any accidental damage is done to your car, you want to know that they are insured and will pay you for any damage that comes out of them unlocking your car for you.
Ask the locksmith for ID when they come. All locksmiths should have something to prove they are with the company you called. In nine states: Alabama, California, Illinois, Louisiana, New Jersey, North Carolina, Oklahoma, Tennessee and Texas, the locksmiths are even required to have a locksmith license.
Remember that they should also ask you for some ID to prove that the car belongs to you. If you do not have this with you, you are probably going to have a really hard time.
Be extremely cautious if the locksmith says that they have to drill out and replace the lock. If the locksmith has any sort of training or skills along with the right kinds of tools that any professional should have, this should almost never happen. Best thing to do if this happens is to get another opinion.